Many Events and Activities will be held in hybrid form as we continue to provide opportunities to participate both in person and remotely.
Church Council Meeting: The next meeting of the Church Council will be Tuesday, October 18th at 6:30 PM.
Gentlemen's Group: The Gentlemen's Group will meet in person on Tuesday, October 11th at 11:30 AM at Paddy's Public House, 95 Elm Street, West Newton.
Choir Rehearsal: Choir rehearsals will resume later in the fall.
Blessing of the Animals: Sunday, October 2 following worship, in celebration of the Feast of Saint Francis of Assisi.
Harvest Harmonies at Christ the King Lutheran Church in Holliston: Sunday, October 2nd at 2:00 PM, we are partnering with three other area Lutheran congregations for a casual fall afternoon gathering of fellowship, fall treats, and communal singing.  This outdoor event (with indoor space as needed) will take place at Christ the King Lutheran Church (600 Central Street, Holliston MA).  The time will be filled with singing songs together, meeting new people, and some delicious fall food.  To RSVP, click here.
Congregational Retreat at Calumet: October 14-16, save the dates! The Calumet conference center offers a variety of housing options, from more rustic to private lodges, all with amazing food, surroundings and company. The LCN faith formation team is working on program details, and will soon send out schedule and registration information, so stay tuned!
Saturday Bible Study:
Will meet over Zoom and in person every Saturday at 9:00 AM. Call the office or see the newsletter for login details and the location for the week.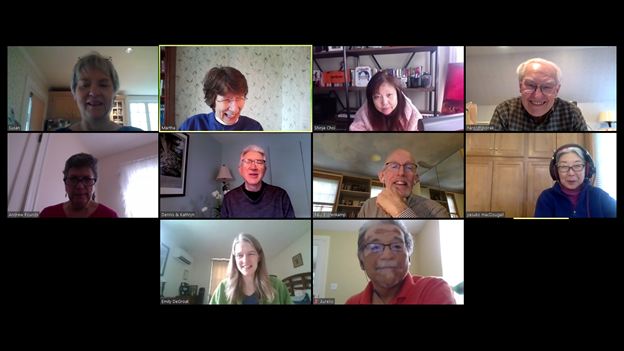 Thursday Bible Study: 
Meets weekly from 9:30-11:30 AM.  Call the office or see the newsletter for the location details each week.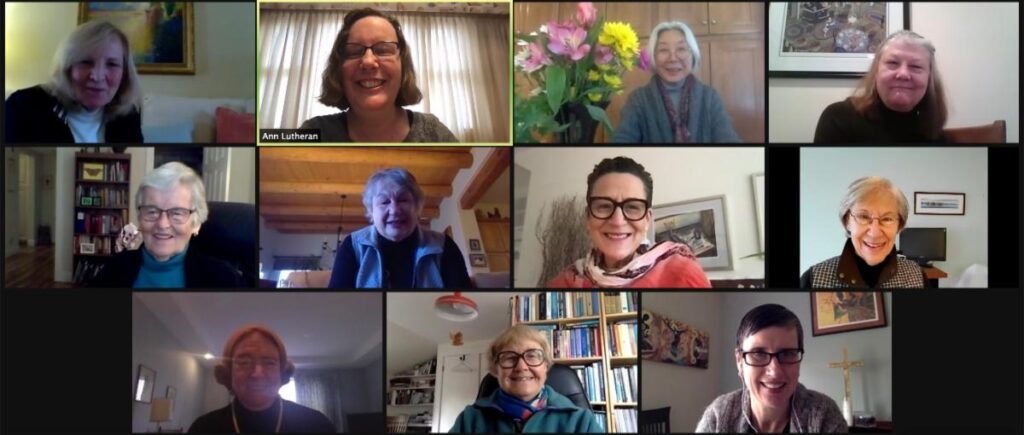 Sunday Mornings – Education Time
Pre-K – Elementary School: "Children's Church" during the morning service (@ 9:45 – 10:15 AM). 
Based on conversations with LCN families and our stalwart faith formation team, we're trying out a different model for Sunday School this year that offers children the experience of worshipping with the whole assembly while also having set apart time and space to explore the week's Bible story and learn about Christian practices.
How will this work? After gathering as a whole community in the sanctuary for the opening hymns and prayers (and an occasional children's message with Pastor Kari Jo), children from pre-K – 5th grade will be invited to continue their worship with a teacher and helper in the fellowship hall, where they will explore the week's Bible story through story-telling, song, and activities. The "children's church" community will return to the sanctuary for the distribution of communion and closing song and blessing. 
Middle School: Confirmation Class (5 PM – 6:30 PM on alternating Sunday evenings, beginning on September 18th.  Dinner provided).
This 2-year faith formation program focuses on accompanying middle school youth as they begin to outgrow their parents' or grandparents' faith and start to wonder how they might affirm the Christian faith in terms that make sense to their emerging selves. Though the program does lead up to the rite of confirmation, there is no expectation or requirement that each child will choose to affirm their faith in that way when the time comes. The class will be designed to create a safe, fun, inclusive environment that mirrors God's unshakeable embrace of each unique participant. 
If you have a child in this age range and have not yet spoken with Pastor Kari Jo about their involvement, please reach out to her.  All are welcome!
Adult Faith Formation: Morning Forums (Occasional Sundays at 11 AM).
From time-to-time on Sunday mornings, community members will present or lead discussion around a field of their interest or expertise, or a common concern or delight. If you are interested in leading a session some time, please be in touch with Pastor Kari Jo. 
Sunday, September 25 – Sara Bernard-Hoverstad will offer reflections and highlights from the ELCA's Churchwide Assembly, which she attended in Columbus, Ohio, this August as a delegate from the New England Synod.
"...and what does the Lord require of you but to do justice, and to love kindness, and to walk humbly with your God?"
Micah 6:8