Worship services are held both in-person and virtually, using the online engagement program Zoom, which enables video conferencing as well as the option to dial in by phone. The instructions are sent out in our weekly newsletter, or you may call the office for more information.  To receive the newsletter, please sign up here.  With an eye toward being a community of love and inclusion of all—including small children and those who live with underlying health complications—we continue to encourage mask-wearing and being cognizant of those around you during Sunday worship for the time being.  Recordings of prior Sunday services can be found on the LCN Facebook page (Lutheran Church of the Newtons) here.
Wednesday Evening Prayer services: Join us for a simple  service of evening prayer, 7:30pm every Wednesday over Zoom. The readings and prayers, and Zoom login information, will be sent out on the preceding Tuesday evening. All are most welcome! 
Confirmation Sunday: On Sunday, April 24 we welcomed and celebrated the affirmation of baptism of 5 of our youth.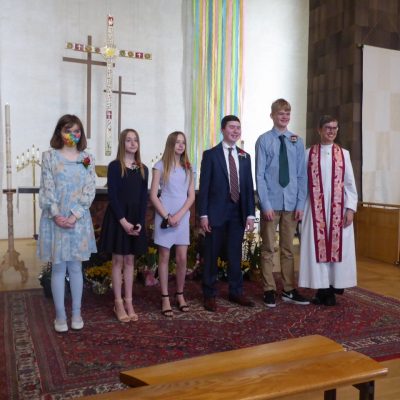 Our Weekly Service Schedule:
Sunday Schedule (See weekly email for links)
9:30 am Worship (Children's Church at 9:45)
10:30 am Fellowship time
11:00 am Adult Forum on occasional Sundays.  See newsletter or our Events & Activities page for more details.
Wednesday Schedule 
7:30 pm Evening Prayer service, over Zoom.  See weekly email for the link.
We are now accepting online gifts and donations. Thank you for your generosity. Your donations are greatly appreciated. To give online, click the button below